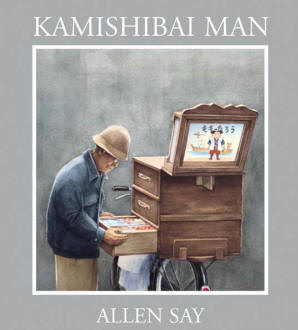 Kamishibai Man
written and illustrated by Caldacott Award winner Allen Say is a beautifully drawn and told tale of a time when these special men plied their trade on the streets of Japan. Kamishibai pronounced kah-MEE-shee-bye, means "paper drama" in Japanese. Kamishibai was a popular form of street storytelling in Japan during the late 1920's until the early 1950's. The Kamishibai man was primarily a candy seller. He used storytelling to entice the children to his "store". He then entertained them with his stories. Kamishibai uses illustrated story cards that are slid into a wooden frame which serves as the "stage". The Kamishibai man frequently told the stories in serial form leaving his patrons with a cliffhanger ending which encouraged them to come see him the next time he came to their area.
Allen Say's Kamishibai Man is his way of remembering the kamishibai men of his childhood. A review of this book at Kamishibai.com says:
"The Kamishibai Man of this story is called simply Jiichan, meaning Grandpa: he belongs to all children who will listen to his stories. His wife is Baachan, Grandma; and she too has an important role, albeit behind the scenes: she makes the sweets that Jiichan hands out to his audience. As the book unfolds, the story shifts almost imperceptibly from the present to the past and his reminiscences of kamishibai themselves become the theater's storyboards. He takes us, his readers, with him as his audience and lulls us with these reminiscences - until we are jolted back into the present by the shouts from the audience in the story-an audience not of children but of adults reglimpsing their lost childhood." Marjorie Coughlan, June 2006 PaperTigers Reader www.papertigers.org
To learn more about Kamishibai, you can take a look at storyteller Diane De Las Casas' book
Kamishibai Story Theater: The Art of Picture Telling
the following websites can also help you with the history and application of kamishibai:
http://www.primaryteachers.org/japan_books.htm - this teacher site
features a number of Japanese tales in picture book form as well as information on kamishibai
The following videos are very helpful in telling what Kamishibai is and in showing it used.
Story extension activity:
Have the children create their own Kamishibai story cards. They can draw pictures on regular paper and then glue them to the front of a piece of cardboard or card stock. You can then write the story action on the back of the cards.